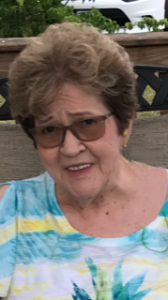 Linda Faye Murphy Kimray, 76, of Lincolnton, NC passed away on Monday September 11, 2023. She was born in Mecklenburg County; she was the daughter of the late Gladys Rogers and Clinton Hughes Murphy.
Linda actively volunteered at Lincoln Medical Center, the homeless shelter, and soup kitchen over the years. She was a member of Highland Drive Free Will Baptist Church in Lincolnton. She was a fantastic baker; it was her favorite thing to do for others. She blessed so many of us with her delicious cakes and desserts.
Linda was preceded in death by her husband of 50 years Michael, sisters Rebecca (Ann) Hamrick, Carolyn (Sue) Paxton, and Dorcas (Joan) McLemore.
She is survived by her daughter Cindy Haskett of Mooresville, NC; granddaughters Claudia and her fiancé Darius Walton, Katelyn and her husband Andrew, brother (Mickey) Steven Murphy and his wife Ann.

Visitation will be held on Sunday, September 17, 2023 at 3:00PM to 4:00PM at Highland Drive Freewill Baptist Church; 2810 Highland Drive Lincolnton, NC 28092. A Celebration of Life Service will immediately follow the visitation beginning at 4:00PM. Linda will be buried with her husband at Forest Lawn Cemetery Lincolnton on Monday, September 18, 2023 at 11:00AM.
In lieu of flowers, donations in Linda's memory can be made to Carolina Caring 3975 Robinson Road, Newton, NC 28658, or St. Jude Children's Research Hospital.
The Good Samaritan Funeral Home of Denver, NC is honored to serve the Kimray Family.