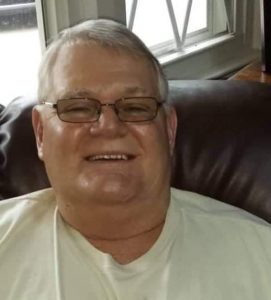 My loving husband, Charles (Chuck) Louis Chepke 74, died July 4th 2021 after suffering many years from the effects from Agent Orange. His heart finally just gave out. 
Chuck was born in California and moved to Ohio as a child. His father, Charles Louis Chepke Sr. and his mother, Maxine Tisher Chepke preceeded him in death.
Chuck graduated from Lake Milton High school and went straight into the Army where he served 2 tours in Vietnam. He came home a decorated hero and was spit on by Americans. He worked construction all his life, moving to Mooresville in 1993. 
Chuck was a gentle giant and he loved hanging with his fellow Veterans. He also loved Nascar but lost interest when his driver Dale Earnhardt was killed. 
Chuck and I were married in 1995 and he loved my kids unconditionally.  I only had 2 Grands at the time. He's always been their "other" Dad. He was an amazing Grandpa especially when the new babies started arriving. He always loved holding the latest new one. We ended up with 16 including 3 sets of twins. We had a good life together and enjoyed many great times with our friends. 

Chuck is survived by his wife Jan, his "other" kids Mike and Steph and Kim, whose husband Doug died in 2019, also survived by 7 Grands and spouses and 9 Great-grands. Shane, Tasha and Dylan, Nikki and Dylan, Reece and Ben (twins), Logan and Riley (twins). Great-grands are Bella, Ayden, Alexis, Matthew, Gabriel and Aurora (twins), Shayna, Cheyenne and #16 Mason!!!

He was a good man, a loving husband and wonderful "other" Dad and provided well for his family. 

Chuck is also survived by his sister Cheryl who kept in touch with him all these years. They talked on the phone all the time. Some survivers are not listed because I don't even know where they are or how to reach them.  Rest in Peace, Chuck. I'll always love you. 

There will be a graveside service in Salisbury with full Military honors in early August. As soon as I have a firm date, I will post it. Later in September there will be a Celebration of his life. Date to be announced later.  
Chuck also leaves behind his beloved Cricket who spent the last 5 years in his bed with him,  and Sam the cat we rescued 12 years ago, then Sassy our 1 year old who weighs 83 lbs. He left me well protected!!!