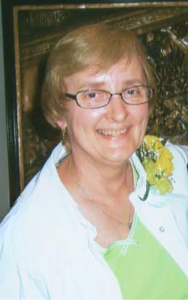 Carol Ann Pepper, 79, of Stanley, passed away on August 22, 2023, after a long battle with Lewy Body Dementia.  She was born on October 25, 1943, in Philadelphia, PA.  She was the daughter of the late John and Irene Sutko.
Carol was a lifelong registered nurse that truly loved caring for her patients. In her free time, she enjoyed reading, walking, sewing, and crafting. She enjoyed watching her favorite television shows Wheel of Fortune and Jeopardy.  Although she suffered from dementia, she kept her kind and nurturing disposition throughout her battle. 
Carol was a devoted and loving wife, mother and grandmother and she is survived by her husband of 56 years Michael, her daughters Michelle and Stephanie, her grandchildren Samantha, Caitlin, Nicholas, and Caroline; her sister Arlene and her brother-in-law Dan Gallagher of Levittown, PA.
A Funeral Mass will be celebrated on Monday, August 28, 2023, at 11:00AM at Holy Spirit Catholic Church in Denver, NC. Interment will take place at Salisbury National Cemetery at a later date.