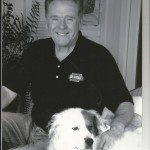 I Fought the Good Fight, I Finished the Race, I've Kept my Faith.
Buddy Baker, 74, an internationally-known NASCAR star and motorsports broadcast analyst/host, passed away Monday, August 10, 2015 at his home on Lake Norman after battling cancer for nine months.
Baker scored 19 victories on NASCAR's major level in a career spanning 1959-1992, including 18 on superspeedways. His greatest triumph came in the 1980 Daytona 500 when he averaged 177.602 mph, a record that still stands.
He was born Elzie Wylie Baker, Jr., on Jan. 25, 1941 in Florence, S.C., to Elzie, Sr., destined to become known as "Buck," and Margaret Baker. Both parents are deceased. Buck Baker was a NASCAR pioneer and is a Hall of Fame inductee. Buddy is a Hall nominee and both Bakers are on NASCAR's 50 Greatest Drivers list.
Besides his parents, Buddy was preceded in death by his sister, Tina.
Buddy is survived by his wife, Patricia Shane Prendergast Baker; two sons, Bryan and his wife, Robin of Mooresville and Brandon of Jacksonville, Fla.; granddaughters Noel and Brianna; a sister, Susie Sanders; a brother, Randy; a niece Sarah Sanders and stepmother, Sue Baker. Also surviving are special close friends Lamar Sprinkle, Fred French, Humpy Wheeler, Daniel Norwood, Carol Petersen and Tom Higgins.
Funeral Service will be held on Tuesday, Aug. 18 at 2 p.m. at Avondale Presbyterian Church, 2821 Park Road, Charlotte. Rev. Dr. John Earl, Pastor, will officiate. Buddy will lie in state from 1-2 p.m. in the church Burial will follow at Sharon Memorial Park- Monroe Road in Charlotte.
The Baker family thanks devoted caregivers Marcus Gabriel, Jennifer Lusk, Nalene Hall and Erica Hollard.
In lieu of flowers memorials may be made to the Iredell County Humane Society, 110 Robinson Road, Mooresville, N.C., 28117.
The Good Samaritan Funeral Home, Denver, is serving the Baker Family