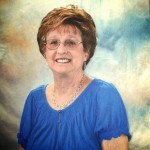 Mildred Martin Whitman was born on May 13, 1945 to Farris and Katherine Stines Martin and went home to be with the Lord on Friday, August 14, 2015 at the age of 70.
Mildred along with her 11 siblings grew up in Catawba County. She attended school at North Brook. She began working in textiles at the age of 17 at J.P. Stevens in Lincolnton, she retired after 37 years of service. Mildred lived in Lincolnton most of her life until moving to Denver nearly two years ago to be nearer to her son and family. Mildred accepted the Lord Jesus Christ as her Savior around the age of 19 at a revival service at the invitation of a friend and continued to serve and love the Lord till the day He brought her home.
She is survived by her children; Scott Whitman (Jennifer) of Denver, NC, Christine Acosta (Robert) of Miami, FL; As well as those she loved as her own Tim Turner (Debbie) of Lake Lure, NC, Christine Frye (Randy) of Lincolnton, NC, Darlene Turner of Iron Station, NC and Donna Zotsman, of Lincolnton, NC.
She was preceded in death by two beloved siblings, Bobby Martin of Mooresville, NC and Marylou Sisk of Lincolnton, NC. She is also survived by her beloved siblings; Wilson Sonny Martin of Maiden, NC, Madeline Byers of Newton, NC, Kenneth Butch Martin (Marylou) of Newton, NC, Francis Pruitt (Arthur) of Claremont, NC, Donnie Martin (Cindy) of Denver, NC, Joe Martin (Joyce) of Kannapolis, NC, Debbie Wilson of Claremont, NC, Farris Martin Jr. (Nancy) of Conover, NC, Shirley Setzer (Everett) of Claremont, NC.
She is survived by 5 grandchildren, Connor Acosta, Bryn Whitman, Caitlin Acosta, Cara Whitman and her "adopted grandchild" Miranda Frye. Mildred or "Bill" as she was affectionately known to most of the family, loved her siblings, children and grandchildren so very much and cherished her time with each one of them.
Mildred was a faithful member of Beth Haven Baptist Church, she loved her church, her Pastor, her church family and her Sunday School class and was dearly loved by her church family. She served often and willingly in any way she could to be a blessing and help to others.
Funeral Service and Burial was held on Sunday, August 16, 2015 at Beth Haven Baptist Church in Denver, North Carolina. Memorials can be made to Beth Haven Baptist Church Building Fund. PO Box 156 Denver, North Carolina 28037.
The Good Samaritan Funeral Home Denver, North Carolina assisted the Whitman Family.