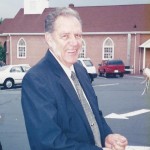 Bobby Ray Bradshaw, Sr., 81 of Denver passed away on September 7, 2014 at his residence. Born on December 12, 1932 in Landis, NC., he was the son of the late Vance and Berdie Barbee Bradshaw.
Mr. Bradshaw was employed as an automobile mechanic at Keffer Pontiac, Charlotte for over 33 years. He was a member of Hills Chapel United Methodist Church in Stanley, NC.
Besides his parents, Mr. Bradshaw was preceded in death by his brother Vance 'Brad' Bradshaw Jr.
Mr. Bradshaw is survived by his loving wife of 62 years, Doris Doster Bradshaw; children Bobby
Ray Bradshaw Jr. 'Rick" (Debbie), David Wayne Bradshaw (Beth). Johnny Scott Bradshaw (Tina), Mark Anthony Bradshaw (Karie); 8 grandchildren; 2 great grandchildren; sister Verline Safrit
The family will receive friends on Tuesday, September 9, 2014 from 6:00 to 8:00 PM at Hills Chapel United Methodist Church 988 South Highway 16 Stanley, NC 28164. The funeral service will take place at the church on Wednesday, September 10, 2014 at 11:00 AM. Interment will follow in the church cemetery.
In lieu of flowers, donations in Mr. Bradshaw's memory to National Parkinson Foundation Gift Processing Center PO. Box 5018 Hagerstown, Md. 21741-5018 would be deeply appreciated (www.parkinson.org)
The Good Samaritan Funeral Home in Denver is serving the Bradshaw Family