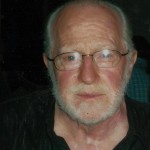 Mr. Donald Roy Popple, 81, of Denver, passed away on August 27, 2014 in the comfort of his home in and the presence of his beloved children. Donald was born on March 8, 1933 in upstate NY and has been a Denver resident for over 25 years. Being a natural born fighter, Donald fought hard until the very end, being one of the oldest men in the United States living with type one diabetes.
This man will be missed not only by his family but by the community. He was a kind, hardworking man who stood strong for his beliefs and always fought for what he thought was right. Donald was never held back by life's struggles and had numerous accomplishments with a few of his most proud being a patented draftsman and a certified mechanic.
Donald is survived by his children, Brenda Milanette and her husband Alan, Denny Popple and his wife Connie Popple, Bryan Popple and Erika Popple. He's also survived by 11 grandchildren and 8 great grandchildren whom he loved very much. Donald will be greeted in heaven by his three sons, Dale Popple, Barry Popple and Brent Popple.
Donald's family would personally like to thank the local fire department, the police department, the EMT's and everyone else who has been by Donald's side fighting for his heath and happiness all these years.
Visitation will take place Sunday, August 31, 2014 from 7:00 PM to 9:00 PM at The Good Samaritan Funeral Home 3362 North Highway 16, Denver, NC. 28037
The Funeral will be held on Wednesday, September 3rd at Unity Presbyterian Church Cemetery. – time TBD. Please contact The Good Samaritan Funeral Home at 704-483-2124 on Tuesday for the time.
In lieu of flowers, contributions may be made to Good Samaritan Funeral Home to assist with family (or funeral) expenses.