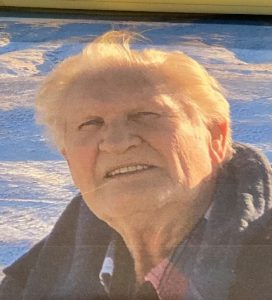 Bobby Lee Reichard of Iron Station departed from our lives on January 18, 2021, two days after his 82nd birthday. We will miss his love for home cooking, laughter, jokes and singing fun folk songs.
He was born on January 18, 1939 in Caldwell County, NC., he was the son of the late Dillo Dallas and Verline Braswell Reichard. Bobby was the 2nd of seven siblings, two boys and five girls. Life was hard.
Bobby was a master gardener. His body clock was set at an early age to rise and shine, there are chores to be done before sunrise or breakfast or school. He had an incredible love for learning, memorizing the almanac each year, and reading trade manuals in between different mischief and/or adventurous endeavors.
He was all about a calendar. If he truly wanted something, he would be very strategic in his planning and savings to make it happen. He was as frugal as they come.
Bobby served in the National Guard for 6 years.
Bobby worked in construction as an electrician for most of his life. Twice retired. He never went a day without a job since his early teen years. Anyone who worked alongside him was made better from his skills and drive. He took great pride in his work ethic and he was known to always show up an 1-2 hours+ early for work at Duke Power Nuclear Station, leaving out at 4:30 am to beat the traffic, enjoying his morning cup of coffee and a power nap before clocking in.
A person could set their clock by Bobby's body clock. He was very time oriented. The local community breakfast and lunch hot spots knew exactly what day/time it was by his visits. Each day of the week had a meal theme. He was a devoted, forever-faithful, husband; a loving & firm father of three girls, AND a caring, incredibly laid back, and fun grandfather of nine, and great-grandfather of five.
Besides his parents, Bobby was preceded in death by his brother, Bruce L. Reichard, Morganton, NC.
Bobby is survived by his best friend and faithful wife of 41 years, BobiJo Lee Reichard; daughters Karen Reichard Cloninger, Denver, NC., Tracie Reichard Street and husband (Jerry) of Morganton, NC, and Kimberly Reichard Bingham and husband (Jeffrey) of Morganton, NC.; nine grandchildren Erich Cloninger and wife (Ashleigh), Denver, NC Andrea Wilson and husband (Jon,) Nashville, TN.Jayme Cloninger, DC. Ryan Alan Cloninger, Denver, NC. Stephanie Delph and husband (Adam,) Mt. Airy, NC., La'sha Sexton, Mt. Airy, NC.,Phillip Bingham and wife (Chelsie,) Morganton, NC ,Travis aka *Cotton* Bingham, Morganton, NC.; five great grandchildren Norah Leigh Cloninger, Denver, NC., Lennon McCoy Cloninger, Denver, NC., Alylen Sexton, Mt. Airy, NC., Drake Sumner Wilson, Nashville, TN., Olive Annette Wilson, Nashville, TN. five sisters Shirley Smith, Granite Falls, NC., Della-Dean Laws and husband (David), Morganton NC., Sylvia-Jean Richards and husband (Ken), Taylorsville, NC., Glenda Reichard, Morganton, NC. and Diana Woods and husband (Eddie), Morganton, NC
Bobby will forever be remembered as the most special and caring big brother. Not a day went by that he didn't chat with one of his siblings over the phone. Each of the them barely got a full sentence completed before there would be these giggles or full-on-outburst of laughter. I think his three daughters each inherited the Reichard siblings unique laughter.
As a young married man & father of three girls, Bobby had the amazing opportunity to selflessly donate one of his kidneys to his baby brother, Bruce, who had a kidney disease, some 50+ years ago, when transplants were still fairly new in the medical community. Family and friends stand in admiration at his eagerness to give his brother an opportunity for life, no matter how short/long the time frame was to be. Organ and tissue donations save lives, Bobby believed that with his whole heart.
Bobby was a proud and committed member of Lakeside Church, Denver, NC, with his dedicated wife, BobiJo. He discovered Lakeside Church at the age of 72. Instantly, he knew he was home. His favorite was bible study day. One of his favorite sayings is, "It's all about the cross". He will be missed by his dearest friends/mentors like Pastor Jason & Summer Collins, Pastor Wayne Moose and SS Teacher, Pastor Robert Sapp and all who knew, loved, served, studied, and prayed alongside him from his faithful church. 
The family of Bobby Lee Reichard would like to express our appreciation for the kindness that has been shown during the Coronavirus illness and passing of our loved one. Our prayer especially to those who came alongside him at Atrium Main Hospital, Charlotte, NC. And Carolina Caring-Hospice in Newton, NC. May God bless you all.
Funeral Service will be held at 11:00 AM on Friday January 22, 2021at Lakeside Church of God 6636 Pine Ridge Dr. Denver, NC 28037.
Due to Covid-19 and careful consideration, thought and prayer, the family has decided on an indoor memorial for Bobby, where each one attending will absolutely be required to *double masks*. No exceptions. Fresh masks will be provided at the door by the church and family.
Thank you in advance for honoring our family's decision to put in place guidelines for the enhanced safety of our immediate family, for the good of others and the safety of our community.
For those unable to wear a mask, during the funeral service, the church will be live streaming the funeral service in the youth room on campus, as well as on Facebook: Locate: https://www.facebook.com/MyLakesideDenver or connect to the church on *YouTube* channel via their website at : https://www.mylakesidechurch.com
The family strongly encourages everyone that would like to honor our loved one and pay your respects, do so in whichever way you see appropriate.