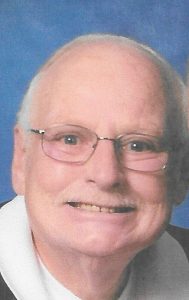 Patrick Joseph Phelan, 70, of Denver, NC. passed away peacefully at his home on January 4, 2021.
Patrick was born on March 1, 1950 in Jackson Heights, NY., the son of the late Eugene J. and Helen Kiernan Phelan.
He worked at his family business for over 50 years.
Patrick was a parishioner of Holy Spirit Catholic Church, Denver, NC. since 2011. He was an active member of the Knights of Columbus since his early 20s. Upon moving to North Carolina in 2005, he pursued this activity by becoming the Faithful Navigator of the 4th Degree Assembly #2417. He was Chancellor of Council #10389. He was also a member of the Knights of Columbus Honor Guard.
Patrick was a founding member of the Delta Chi Fraternity Chapter at Embry-Riddle Aeronautical University in Daytona Beach, Florida. In August of 2012, after serving many leadership roles all through his life, he was awarded the highest honor in the National Delta Chi Fraternity by being chosen to be a member of the Order of the White Carnation. This high distinction is awarded sparingly and he is one of only a few dozen men ever to receive this recognition from among the thousands of Delta Chi's Fraternity nationwide.
Patrick was passionate about flying. He was an instrument pilot. He was licensed to fly single engine planes and seaplanes.
Patrick was also a ham radio operator.
Patrick is survived by his loving wife of 42 years, Susan Phelan and his Basset Hound, Holly.
There will be no funeral services at this time because of the Covid 19 Pandemic. A Funeral Mass will be celebrated at Holy Spirit Catholic Church in Denver, NC.  hopefully in the spring.
The Good Samaritan Funeral Home was honored to serve the Phelan Family
Oh! I have slipped the surly bonds of Earth
And danced the skies on laughter-silvered wings;
Sunward I've climbed, and joined the tumbling mirth
Of sun-split clouds, – and done a hundred things
You have not dreamed of – wheeled and soared and swung
High in the sunlit silence. Hov'ring there,
I've chased the shouting wind along, and flung
My eager craft through footless halls of air…
Up, up the long, delirious burning blue
I've topped the wind-swept heights with easy grace
Where never lark, or ever eagle flew –
And, while with silent, lifting mind I've trod
The high sanctity of space,
Put out my hand, and touched the face of God.
John Gillespie Magee, Jr.