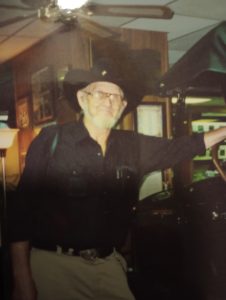 Mr. Aubrey Lee Aderholdt Jr. (Bud), 87, went home to be with the Lord on June 27, 2023. He was a resident of the Heath House in Lincolnton, NC. He was born on April 21, 1936, in Catawba County to Aubrey Lee Aderholdt Sr. and Junie Berryhill Aderholdt.
Bud is preceded in death by his wife Emily Degroat; his sisters Katherine Long, Dot Hamilton, and Pat Peeler; and his grandsons Mackie Schronce, Damon Dalton, and Jason Beam.
Bud is survived by his sons Danny Aderholdt(Lynn), Randy Aderholdt, Richard Aderholdt(Cindy), Jeffrey Aderholdt(Becky); his daughters Rhonda Beam(Donald) and Deanna Saunders; his stepdaughter Elizabeth Corona(Ladislao); daughter-in-law Susan Jarvis; 9 grandchildren, 11 great grandchildren and 1 great great grandchild; his brothers Bobby Aderholdt and Jimmy Aderholdt; and his sisters Peggy Smith and Helen Smith.
Aubrey was better known by Bud. He loved fishing, going to Flea Markets, and working on lawn mowers. He will be greatly missed.
A Celebration of Life will be held on July 22, 2023, at 1:00PM at Highland Drive Freewill Baptist Church in Lincolnton. Officiating will be Pastor Luke Johnson.
A special thanks to Heath House and the team at Hospice for providing care to our father.