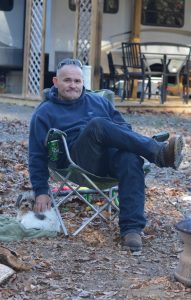 Charlie Funderburke, 56, passed away peacefully at home on Friday June 23, 2023, surrounded by his family after a long 4 month battle on hospice care.
Charlie was born on October 16, 1966 in Rutherfordton, NC but resided the majority of his life in Lincolnton, NC. Charlie was an amazing Father of 2, Granddad of 6, Brother, Uncle. & Friend. He was soon to be a Great Granddad too. Charlie was a hard-working man who had a love and passion for his own business C & R Solution. He was an adventurer who loved the outdoors, especially the Blue Ridge Mountains where he will now be calling his forever home.
One thing is for sure, Charlie was loved by many and will be missed dearly.
His Celebration of Life will be held at 3:00pm on Sunday July 2, 2023, at The Good Samaritan Funeral Home in Denver, NC.