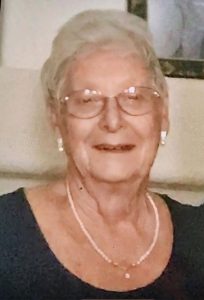 Our precious mother Mildred Lester Turner of Denver NC passed away on Tuesday March 28th.  She devoted her life to caring for her husband and children.
Jimmy and Mildred were married nearly 60 years ago. Dad preceded her in death 17 months ago. She worked to provide for her family in the grocery store business and she and dad retired as owners of Park-n-Shop the Wonder Stores almost 20 years ago.
When dad's health started to decline, she cared for him with such love and dedication and never left his side. Her heart was broken when he left this world and was more than her heart could stand. She raised her 3 children Teressa Kirk (Husband-Don), Curtis Turner (Wife-Reginia) and Scott Turner (Wife-Lacey) with the same love and dedication. We couldn't have asked for a better example of what a human should be.
We are heartbroken and miss her dearly. No grandmother has ever loved her grandchildren more than she did. Miranda Perkins, Corey Turner (Wife-Melissa), Emily Morgan (Husband-Alex), Erin Deon (Husband-Scott) and Garrett Griffin will miss her more than words can say. Her 8 great grandchildren Deja, Kailyn, Kurt, Haven, Oliver, Benjamin, Lukas and Kayden will have to learn of their Great Grandmothers love for them through stories and pictures of her holding them. In those pictures you can see the insurmountable love in her eyes.
The funeral service will be held at the church she attended Lakeside Church of God at 2:00pm Tuesday April 4th, 2023.
In lieu of flowers we ask that you make donations to the church online at
mylakesidechurch.com
or mail to Lakeside Church PO Box 570 Denver, NC 28037.