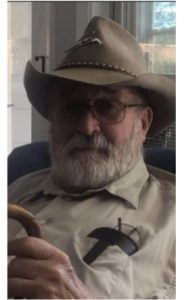 William M. Goodwin, a proud veteran of the United States Air Force, passed away on October 12, 2021. The son of William Gilbert Goodwin and Marjorie Jane Mattern was born in Philadelphia, Pennsylvania in 1940 and grew up in Hartsville, Pennsylvania.
At the age of 18, Bill enlisted in the United States Air Force. He valued his service highly and attained the rank of Master Sergeant during his 20 years of service to our country. He travelled the world during his service and served in the Vietnam War.
After retiring from the Air Force, Bill and family settled in Scarborough, Maine for eight years before finally settling in Denver, North Carolina in 1984 where he owned and operated his own business, Bill's Volvo Clinic until 2008.
Bill is survived by his loving wife of 61 years, Margaret B. Goodwin, sons William Steven Goodwin and Robert Stuart Goodwin, daughters-in-law Patricia Lee Goodwin and Candice Stephens Goodwin, three grandchildren, William Robert Goodwin, Robert Stephens Goodwin, and Sarah Elizabeth Goodwin and three great- grandchildren, William Harrison Goodwin, Aria Sky Goodwin, and Madison Harper Goodwin.
He was also survived by two of his brothers, Robert and Steven Goodwin. He was preceded in death by his parents and brother Stuart.
Bill loved spending time cowboy action shooting as a member of the Single Action Shooting Society (SASS). He was truly a cowboy at heart.
A service honoring the life of William M. Goodwin will be held at Good Samaritan Funeral Home in Denver, N.C. on Saturday, October 23, 2021 at 2:00pm. The family will attend his burial at Arlington National Cemetery at a later date.