S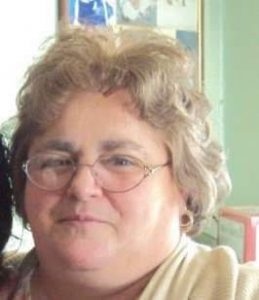 usan Diane [Almy] Richards-Brooks was born on October 19, 1955 in Salem, Ohio to David Almy and Betty [McCulley] Almy. She has gone into the loving embrace of Jesus Christ in the stillness of dawn on January 16, 2020 in the loving presence of her children, grandchildren and great grandchildren. Susan was 64 years old and left behind  5 daughters: Shannon Bond (John Bond Sr.), Madelyn Kelly, Misty Miller, Samantha Cummings (Curtis Cummings) and Brooke Richards. She is preceded by 15 grandchildren:  Cody Blaire, Casey Bond, Caley Bond, Heather Dias, Dakota Cullen, Isiah Richards, Samuel Richards III, Bill Richards, Rose Richards, Joey Landers, Jacob Bond, Logan Miller, Austin Cummings, Curtis Cummings Jr., and Denzel Cummings of Raeford, NC. She will also be cherished and missed by 9 grandchildren and many nieces and nephews.  Susan Almy Brooks is also survived by 7 siblings: Charley Almy, Gilbert Almy, Sandra Rayner, Daniel Almy, Elizabeth Joy, Lynnette Kabat & Rebecca Chestnut. She is proceeded in death by her parents, David & Betty Almy. 1 son, Samuel Richards Jr., and grand-daughter Brooke Richards.
Susan was a devout member of the Denver Wesleyan Church in Denver, Nc. She worked many years in the textile industry and child care. She loved lilacs, horses and being surrounded by friends & family. She touched many souls and breathed an heir of joy with the simplest of smiles. She had an amazing sense of humour and an even stronger devotion to the Lord and church family. 
Visitation will be Thursday January 30, 2020 from 5:00 PM to 7:00 PM at the Denver Wesleyan Church.  Service will follow at 7:00 PM. Graveside Service Friday 11:00 Am at Forest Lawn Cemetery. Lincolnton.
 The Good Samaritan Funeral Home is serving the Brooks Family
In Memoria of Susan Diane Almy-Richards-Brooks:
"For God so loved the world that he gave his one and only son; that whoever believes in him should not perish, but have eternal life."   -John 3:16