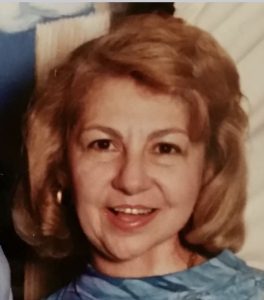 Ana Rita Gomez Capote, age 82, passed away with her husband, her children and their spouses at her side on January 16, 2020.
She was born in Pinar del Rio, Cuba. She studied at the University of Havana, Cuba and went on to teach biology and head the science department of a Catholic all girls school in Havana, Cuba.  In 1963 she married Antonio Capote, her childhood friend and husband of 56 years.  They were together for 71 years.  She spent two years raising their children by herself when her husband was in a concentration camp awaiting permission to leave and go to the United States.  Their faith was strong and it was important to Ana and Antonio that their children be raised with the freedom to worship and attend church. They moved to the United States in 1969 and raised their children in Aurora, Illinois where she worked as an engineer for AT&T.  She was highly intelligent and the go to person if you needed anything.
Ana was a very helpful and loving person, always concerned and protective of all those she came in contact with.  She was quick to deliver a meal and a week of groceries to a family in need, and put them in contact with the agencies and people who could help them. In her spare time, she taught English as a second language and spent extra time teaching the alphabet  to those who did not know how to read and write in their own language.  Those who knew Ana, knew of her strength in winning the battle against cancer, fighting through years of pain, and her indomitable spirit.
Her beautiful life will forever be cherished in the lives of her loving husband, Antonio, her daughter, Carmen and husband David Moran of Holly Springs, NC, her son Antonio Capote and wife, Donna of Maiden, NC.  She was beloved grandmother to Patrick Moran III and wife Michelle of Raleigh, NC, Teresa Moran Harris and husband Corey Harris of Farmington, UT, Evan Moran and fiance Ashley Schick of Cullowhee, NC, Cameron Saxon of Maiden, NC and Antonio of Maiden, NC.  Ana will continue to live on in all the treasured memories we hold in our hearts and will give thanks for the ways in which she shaped and blessed her family as she pointed them to Christ.
A memorial gathering will be held on Monday, January 20, 2020 from 10-11:30 AM at Holy Spirit Catholic Church, 537 N Highway 16, Denver, NC.  A Mass of Christian Burial will be celebrated at 12 PM.  Burial will be at Forest Lawn Cemetery following the Mass.  All are welcome to join the family.
If you wish, in lieu of flowers, donations may be made to Boys Town (Ana was a long time supporter) or Levine Dickson Hospice House in Huntersville (the love and care they showed Ana in her final days is greatly appreciated by the family).