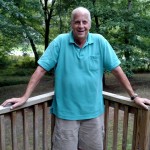 Mr. Sanford "Sandy" M. Tarter , 68, of Denver, passed away peacefully on March 5, 2018 at Levine and Dickson Hospice House in Huntersville,NC after a strenuous fight. A Celebration of Life will be held in his honor beginning at 2:00 PM on Monday, March 12, 2018 at the Good Samaritan Funeral Home 3362 (Business) North Highway 16 in Denver, NC.
Mr. Tarter was born April 14, 1949 to the late Gertrude and Joseph Tarter in Mineola, NY. He spent most of his childhood in Valley Stream, Long Island before heading out to further his education in Colorado. He settled down in Brick, NJ where he started a family. Mr. Tarter spent most of his early career at Love Lane Tuxedos in Red Bank, NJ, selling formal wear, a job which he loved. He moved on to other salesman jobs in the area, before retiring and moving down to Denver, North Carolina to be near his only grandson, Karl "KC" Lynch.
Mr. Tarter will be joining his parents, brothers Ira and Howard as well as other dearly missed family members who have passed before him. He was also preceded in death by Kristen Lawson Tarter
Surviving are his daughters, Lauren Lynch and grandson KC of Lincolnton, NC; Jessica VanPelt and her husband Matthew VanPelt of Lanoka Harbor, NJ; his brother Bruce Mayerson and wife Suzi Mayerson of Boynton Beach, Florida and cousins who he considered more like brothers and sisters: Harriet Mancini, Ellen Miller, Ira Bluestein, Ivan Ziegler, Susan Ehrlich, Martin Perlmutter, Susan Wyman, and Lois Grossman. He is also survived by Nanette Spada-Tarter.
Sandy never met a stranger. He also leaves behind a close knit group of friends who will always remember Sandy for his quick whit and the ability to always make those around him laugh. He found strong support for about 30 year in his group of AA friends, and they will miss the experiences and words of wisdom he shared with them.