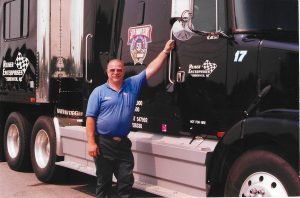 Roy Sidney Ruggles Jr., of Maiden, NC passed away on June 13, 2022. Born on November 8, 1944, in Fairfield County, Connecticut, he was the son of the late Roy and Elizabeth.
He was employed with JTG Daugherty Racing in Concord, North Carolina as a transport driver for the team.  
He loved animals and NASCAR. He volunteered for animal rescues after Hurricane Katrina, but his true love of his life was his wife of 40 years, Karla.
Besides his parents, Roy is proceeded in death by his two brothers Kenneth Ruggles and Clifford (Dusty) Ash.
He is survived by his wife Karla (Pike) Ruggles; children Clifford and his wife Mia, Kamie Hart and her husband Randy, and Ruth Ruggles-Carder and her husband Mark; seven grandchildren; 12 great-grandchildren; siblings Cheryl Corson, Debbie Talty, Scott Ash, and Terry Ash; and many nieces, nephews, and in-laws.
Funeral arrangements were private.
In lieu of flowers, donations in Roy's memories can be made to an ASPCA Humane Shelter of your choice.
The Good Samaritan Funeral Home of Denver was honored to serve the Ruggles Family.