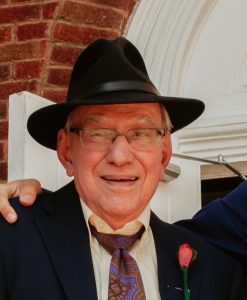 Antonio Leoncio Capote, age 88, passed away peacefully with family at his side on June 25, 2022.  He is now reunited with his beloved wife, Ana, who preceded him in death in 2020.
He was born in Pinar del Rio, Cuba, one of four children. He studied at the University of Havana, Cuba, opened an accounting office and taught accounting at the University of Havana.  His passion lay with the culinary arts and he spent many happy hours in the kitchen improving old family recipes and cooking for church fundraisers. 
In 1963 he married Ana Gomez Hernandez, his childhood friend and wife of 56 years.  They were together for 71 years.  He spent two years in a concentration camp awaiting permission to leave and go to the United States.  Their faith was strong and it was important to Antonio and Ana that their children be raised with the freedom to worship and attend church. They moved to the United States in 1969 and raised their children in Aurora, Illinois. He worked at Caterpillar Inc until he retired.
Antonio had a generous spirit, always ready to help. He was quick to deliver a meal and a week of groceries to a family in need or donate anonymously to another going through hardship.  He was an avid supporter of the church and its missions to the community.
His beautiful life will forever be cherished in the lives of his daughter, Carmen and husband David Moran of Holly Springs, NC, his son Antonio Capote and wife, Donna of Maiden, NC.  He was a loving grandfather to Patrick Moran III and wife Michelle of Raleigh, NC, Teresa Moran and husband Corey Harris of Farmington, UT, Evan Moran and wife Ashley of Pensacola, FL, Cameron Saxon of Maiden, NC and Antonio Capote of Maiden, NC, nephew Pedro Capote and sister-in-law Mercedes Capote.  Antonio will continue to live on in all the treasured memories we hold in our hearts. How blessed we all were to have him in our lives.  Alzheimer's slowly took his mind but not his love for others and infectious joy of life. May we honor him by finding joy and love in all the little things around us.
A memorial gathering will be held on Wednesday, June 29, 2022 from 10-11:00 AM at Holy Spirit Catholic Church, 537 N Highway 16, Denver, NC.  A Mass of Christian Burial will be celebrated at 11 AM.  Burial will be at Forest Lawn Cemetery following the Mass.  All are welcome to join the family.
The family wishes to express heartfelt gratitude to the staff of Adult Life Programs in Maiden, NC for their love and care of Antonio.
If you wish, in lieu of flowers, donations may be made to Alzheimer's Association https://www.alz.org/