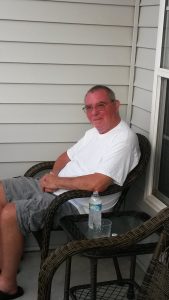 Roger Dale Cooper of Stanley, passed away peacefully on January 5, 2021 at the young age of 68. He was born on February 3, 1952. 
Roger Dale Cooper was a great father, devoted brother, beloved uncle, lifelong North Carolinian, who was an avid camper, loved dirt track racing, and his family.
Roger is survived by his son Roger Dale Cooper Jr. and wife Tracy of Denver, NC, his grandchildren Savannah Cooper, Chris Berg, Ashley Hathcock, John Berg, and Bryan Berg, and Great Grandchild Deklan Vargas.
Some of his family's most treasured memories with Roger are their family meals, holidays and family vacations. Known for being a bit hard-headed (ie refusing to wear sunscreen at the beach) , there is no denying the love Roger had for his family. His boyish grin and twinkle in his eyes will be sorely missed.
Due to Covid-19, the Family look forward to celebrating Roger's life at a later date.
Roger's family is grateful for the thoughts, well wishes, and prayers along with the outpouring of love and support at this time.
The Good Samaritan Funeral home is honored to help the Cooper Family.