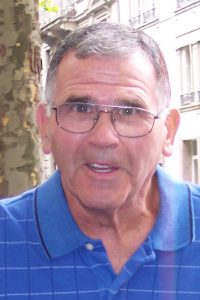 Richard Wesley Williams "Cy," 79 of Denver, NC, went to be with his Savior peacefully on December 21st. He was at home, surrounded by his family.
Cy was born in Mt. Holly, NC on January 14, 1940, and attended Stanley High School Class of 1958. He proudly served his country as a member of the Military Police in the Army.  He also worked for Carolina Freight Carriers as a driver and dock loader. Cy loved the Lord, coaching his boys in sports and spending time with his family. 
Cy is survived by his loving wife Glenda Stines Williams of 50 years, his three sons Todd (Sheryl) of Ft. Leavenworth, KS, Joshua (Jessica) of Denver, NC and Matthew (Christina) of Denver, NC, two grandsons (Mitchell & Cole), two beautiful granddaughters (Paige & Ellen) and one great-grandson (Benjamin).  Two brothers Steve Williams (Breeze) of Denver, NC and Mike Williams (Lee) of Mooresville, NC. He is also survived by numerous cousins, nieces and nephews.
He is preceded in death by his mother Inez Williams and father Coyte Williams of Stanley.
Visitation will be Friday, December 27, 11:00 a.m. at Salem United Methodist Church in Denver, NC with the funeral following at 12:00 p.m.  Pastor David Green & Lt. Col. Todd Williams will be officiating. 
Funeral arrangements are being handled by The Good Samaritan Funeral Home.
In lieu of flowers, memorial donations can be made to Hospice and Palliative Care of the Charlotte Region or Salem United Methodist Church, Denver, NC.