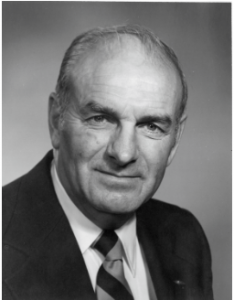 Richard "Dick" Martin, beloved father, grandfather, and great-grandfather died February 17, 2022, at Olde Knox Commons in Huntersville, NC. He was 93 years old.
Dick was born in Frenchville, Maine to parents Albert and Irene (Michaud) Martin. He attended John Bapst Memorial High School in Bangor, Maine, where he was captain of the football team. He enlisted in the United States Marine Corps after graduation, serving as a motor transport instructor. He flew 13 years for Central Maine Flying Service in Old Town, Maine and finished his 50-year flying career as the Chief Pilot for Georgia Pacific Paper Company in Millinocket, earning his title as the "Flying Frenchman."
In addition to his military service and career as a pilot, he was a square dance caller and a self-taught carpenter who was known by all for his considerable ingenuity. His proudest achievement was being husband to his beloved wife of 60 years, Winnie, who died in 2008.
Dick is survived by his sisters, Carmen Dunn of Tennessee, and Toni Martin of Florida; sons Dick Jr. (Cheryl) of Portsmouth, RI, Steve (Debbie) of Denver, NC; grandchildren Chris Martin (Ilona) of Barrington, RI, Monique Grauer (J.D.) of Portsmouth, RI, Kate Marino (Jeff) of Marietta, GA, and Corinne Martin of Denver, NC; and four great grandchildren.
To honor his late wife, he would have wanted donations to be made to the Alzheimer's Association: https://act.alz.org
Visitation will be held at Holy Spirit Catholic Church in Denver, NC on Wednesday, February 23 at 2:30 pm with the Mass of Resurrection immediately following at 3pm.
An interment service for both Dick and Winnie will be conducted at Woodlawn Memorial Park in Brewer, ME at a time to be announced.