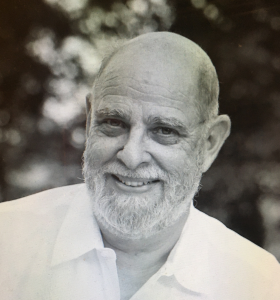 Richard McCalley, better known as Bangie, passed away Friday, December 4th while at home surrounded by his family. He leaves behind his wife, Saranne "Tootie" McCalley, his 3 children, Marjory, Michael, and Christian, and their spouses, 8 grandchildren, his sister, Fran McCalley, and two nieces.
Bangie was born on October 27, 1944 in Fredericksburg VA to Bubs and Betty McCalley. He spent his childhood there before heading to Texas Tech University, where he earned a degree in Animal Science. While at Texas Tech, Bangie met the love of his life, Tootie. They were married in 1967 and moved back to Virginia where he took over his father's glass business. With his strong entrepreneurial spirit and problem-solving skills, he also started and ran several other businesses before moving to North Carolina.
Bangie loved his Lord and Savior Jesus Christ. His favorite Bible verse was Matthew 4:19; "Follow me and I will make you fishers of men." Bangie believed living out this verse in three simple ways: make a friend, be a friend, and bring a friend to Jesus.
Although he was very private about it, Bangie loved to invest in and help people. Over the years he anonymously gave to people who were in a tough spot or were going through a hard time. He and Tootie opened their home to help troubled youth, international exchange students, missionaries, and anyone in need.
Bangie did not live an ordinary life. He was an adventurer, who rode in the rodeo, raced motorcycles, fished on- and off-shore, hunted, and shot competitively. He also loved tinkering and designing and was an inventor.  One of his proudest achievements was helping his son, Christian, earn a National Championship driving Legends Cars. He was a lifelong learner and had many hobbies, including cooking, reading, weather-tracking, two-stepping with his wife, spending time with his family, and most importantly building a legacy of loving the Lord, working hard, and investing in others.
Given the current Covid-19 situation and restrictions, the family will be deferring a celebration service honoring Bangie until spring of 2021. In the meantime, please feel free to reach out to Tootie directly and share your condolences, or even better, one of your favorite memories of Richard "Bangie" McCalley. You can send your respects either directly to Tootie at bangiemccalley@gmail.com or with a donation to Hospice & Palliative Care Lake Norman, in the name of Richard "Bangie" McCalley, at 705 Griffith St, Suite 203, Davidson, NC 28036.