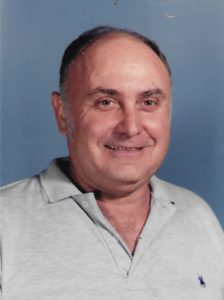 Richard Allen Butler, 82, of Denver NC passed away on January 17, 2023, with his loving wife Carol by his side. His family surrounded him with love and laughter during his final days. He was born on January 23, 1940, to Clarence and Henrietta (Gohl) Butler.
Richard loved sports. He ran track, played baseball and was quarterback while in high school. After high school graduation, he received an athletic scholarship from Eastern Michigan University to play football. He often told us how much he loved college days.
 He married his first wife Karren shortly after graduating with a bachelor's degree in Physical Education. They moved to Fort Lauderdale, Florida in 1965 after he accepted a Physical Education teaching position at Plantation middle school. They had five children together and spent many happy years as a family.
Richard married his second wife Joanne in 1976 and they had a son. They spent many happy years together.
Richard was a devout Catholic and took his family to mass every week-sometimes twice a week. Richard taught CCD at St. Gregory for 20 years and was a member of the Knights of Columbus. It was during that time he completed his Masters degree at Nova University.
A few years before his retirement, he met Carol. It was love at first sight and they married six weeks after their first date. They enjoyed spending time playing board games, shopping, and traveling. They volunteered together feeding the homeless.
Richard retired after 30 years as a physical education teacher. After, they moved to Murphy, NC and spent a few years playing farmers. They had a garden as well as raised chicken and goats. They volunteered together at the local community center as well as Richard volunteered at the local fire department.
Richard had an amazing smile that was contagious. He was a man of integrity, dependable, loving, generous, and shared his positive energy with everyone he met. He will be loved and cherished forever.
Richard is survived by his wife of 34 years Carol; his children Wanda, Richard, Danielle, Darryl, Yvette, and Michael; as well as his beloved dog Sammy.
A funeral mass will be celebrated on Saturday, January 28, 2023 at 2:00PM at Holy Spirit Catholic Church 537 North Highway 16 (Business) Denver. NC 28037.
Inurnment will follow at Unity Presbyterian Church Columbarium in Denver, NC.
The Good Samaritan Funeral Home is honored to serve the Butler Family.