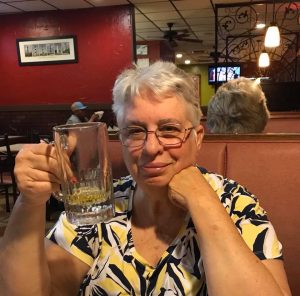 Reverend Linda Marie Petersen, 72, of Denver, NC passed away on November 8, 2020 at Carolina Care Sherrills Ford Hospice House after her battle with Colon cancer.
Linda was born June 28, 1948 in Washington, DC to Alton and Mary Johnson, both deceased.
Linda attended Morningside College in Sioux Falls, SD where she earned her Bachelor of Arts degree in Religion in 1989. She also received an Associates degree in Early Childhood Education. She worked in various churches and organizations through the years. She worked as an Assistant Chaplain, worship leader and a teacher. 
One of her greatest joys was working and volunteering at the Salvation Army in Sioux City, IA 
While attending the Salvation Army Church in 1982, she met a man named William Petersen, that would on September 25, 1983, become her husband. Linda FINALLY agreed to marry Bill after he proposed 3 times. 
They enjoyed doing clown ministries together for many years. Even so far as to get married as Pete and Repeat on their 25th Anniversary that Bill planned as a surprise for his bride.
Linda is survived by her husband William H Petersen. Her 2 sisters, Jeanette Johnson of Denver, NC. Delorah Durbin-Dodd(Nick) of Palm Coast, FL. Three Children, Camilla Shimonek(Douglas) of New Brighton, MN, William Ladd(Michelle) and Timothy Ladd of Sioux Falls, SD. 5 grandchildren, 3 great grandchildren and 2 nieces.
A Celebration of Life Service is Friday, November 13, 2020 at 2pm The family will receive very limited people at 1pm.
The Good Samaritan Funeral Home  Denver, NC
Internment will be at Mt Zion United Methodist Church  Sparta, NC
In lieu of flowers the family is asking for donations to assist them.