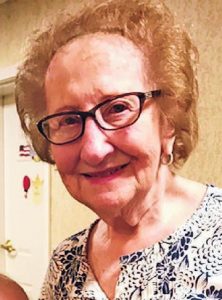 Mary Heredos, 92, of Elyria, passed away on October 18, 2020, at her daughter's home in North Carolina, shortly after receiving a diagnosis of a brain tumor. Mary was born January 2, 1928 and was a lifelong Elyria resident.
She graduated from Elyria High School, was a former employee for Lorain County Health Department as a Discharge Planner at Elyria Memorial Hospital, before enjoying a 32 year retirement. She enjoyed being with family and friends, traveling, going on local casino bus trips, shopping, boating, fishing, playing poker and was an avid Cleveland Browns fan.
Survivors include her daughter and son-in-law, Dianne and Mike Annan and grandsons, Cole and Connor Pickens.

She was preceded in death by her husband of 50 years, Emery Heredos; son, Ronald Heredos; parents, Michael and Susan Sklenar; brother, John Sklenar and sister, Susan Kerchmar.

The family would like to thank Levine-Dixon Hospice for their support, kindness and care.

She will be laid to rest at Ridge Hill Memorial Park in Amherst. Her family and friends will be invited to a celebration of her life at a future date.

Arrangements were handled by The Good Samaritan Funeral Home in Denver, North Carolina.