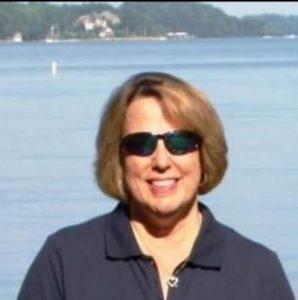 Our beloved Nancy DeMicco Germani was born June 5, 1954 with her twin sister, Maria, in Houston, Texas, to Ben and Ann (DeMicco) Germani.
Nancy died peacefully in hospice care surrounded by her family and best dearest friend, Mary Riley on Wednesday, November 3, 2021.
Nancy was employed for many years at Boeing in Seattle, Washington, and then for twenty years at the Bank of America in Charlotte where she was a Vice President.
Nancy was beloved by many friends and neighbors.  She deeply loved the beauty of the Outer Banks, North Carolina, and recently organized a siblings get together there.
Nancy is survived by her son and daughter-in-law Tom and Kathy Ratliff of Issaquah, Washington, her twin sister, Maria Vadeboncoeur and husband, Tom of Asheville, NC, brother, Anthony Germani and sister-in-law, Judy of Houston, brother Tom Germani of Denver, NC, sister, Anne Marie Germani of Denver, NC, sister JoAnne Scholes and husband, Andy of Houston, and best friend, Mary Riley of Denver. 
Also survived by numerous nieces and nephews, Jean-Paul Vadeboncoeur, Therese Sullivan and husband, Jay, of Dallas, Andy John Scholes and wife, Lauren of Atlanta, Georgia, Kenneth Germani, Gregory Germani and wife Jennifer of Houston, and Elizabeth Germani of Houston, numerous cousins, great nieces and nephews.
Services will be private.
Nancy was so very loved and will be missed every day and remembered always.
In memory of Nancy, donations may be made in her honor to the Susan G. Komen Foundation, Komen.org or the American Cancer Society.