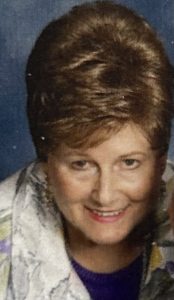 Mary Lucielle 'Lucy' Hartsell Mullis, 85, passed away on August 31, 2023.  She was born to the late Luther Madison and Autie Whitley Hartsell in Concord, NC on April 10, 1938. 
Lucy is survived by her loving twin daughters, Sharon Walker of Huntersville and Karen Hendrix (Roger) of Mint Hill; grandchildren Tiffany Cook (Kenneth); Jenna Linton (Ed); Cortney Sherman (Ryan); Baron Hendrix (Jenna); great grandchildren Adelaide, Madelyn and Gage Cook; Olivia and Wyatt Linton; Dale and Turner Sherman; Bowen and Gatlin Hendrix; brother Dwight Hartsell (Susan) of Charlotte; sisters Linda Miller (Larry) of Mt Pleasant and Peggy Hartsell of Locust.
Proceeded in death by her husband of 63 years Clyde James Mullis and brother Larry Hartsell.
Lucy professed Jesus Christ as her Lord and Savior and accepted Jesus into her heart at an early age. She was a faithful member of Clear Creek Baptist Church and served as Secretary /Treasurer.  Upon retirement, she and Clyde moved to Denver where they both become active servants at Denver Baptist Church. She served in the senior and music ministries.

Lucy retired from Duke Power (Duke Energy) with 35 years of service. She was one of the first females promoted into a supervisory role.  She worked in the Charlotte Division in underground construction with many responsibilities but one that she enjoyed most was interacting with and dispatching lineman crews. She had a strong work ethic and was very well respected.
Lucy was a loving and faithful wife, mother, grandmother, great grandmother, sister, sister-in-law, aunt and friend.  Lucy had a passion for people, a great sense of humor and loved to laugh and have fun.  She had the gift of hospitality and her home was always open.
A Celebration of Lucy's life will be held on September 6, 2023 at Denver Baptist Church 6917 Forest Hills Drive Denver, NC 28037. (Main Campus)  The family will greet friends from 11:00am to 11:50am and the service will follow at 12:00pm.
Memorial contributions may be made in Lucy's memory to Denver Baptist Church, 6917 Forest Hills Drive, Denver, NC  28037 or Jeff Andler Ministries,  7410 Apple Creek Dr, Charlotte, NC 28227  jeffandlerministries.org