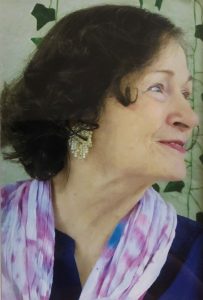 Mary Elizabeth (Mary Beth) Hammer Thomas passed from this life on February 9 in Huntersville, NC. She was 82 years old. Mary Beth was born in Pottsboro, Texas, on May 29, 1940, to Sybil and Harold McAden. She was a life-long resident of Texas/Oklahoma until she moved to be close to her daughter Debbie, who lovingly cared for her in her last years.
Mary Beth attended schools in Gainesville, Texas, and married Jimmy Hammer before moving to Woodward, Oklahoma, where they had their first two children, Cheryl and Steve. After that, they lived in Seminole, where daughter Debbie was born, then lived in Duncan and Healdton.
A homemaker, Mary Beth was an excellent mother and cook. She also worked as a manager at Merle Norman and a receptionist with Derrick Oil. But, most importantly, she was a dedicated church attendee, taking her three children faithfully, who are forever grateful that she gave them the greatest inheritance of leading them to Jesus Christ.
Mary Beth was an avid bowler, enjoying her time with friends on bowling teams that competed at state. She loved antique shopping and sewing. In her younger years, she loved to jitterbug to 50s music and, later, ballroom dance. She was married to her second husband, Millard Thomas, for 33 years before his passing in 2018 in Denton, Texas. In 1986, she was diagnosed with multiple sclerosis (MS). She maintained a positive attitude despite her disease for the remainder of her life, never giving up hope of remission, which she achieved in her last years without medication.
Mary Beth was the "E" in extrovert who genuinely loved all people and always found something endearing about everyone. She was an encourager and comforter to those in the nursing home where she lived. Throughout her life, she frequently dreamt of flying, and we give thanks that she's flying in Heaven now.
Preceding her in death are her grandmother and namesake, Mary Elizabeth Davidson and grandfather Frank; her parents, Sybil and Harold McAden; her first husband, Jimmy Hammer; her grandson Jon Perge; her second husband, Millard Thomas; and her oldest brother Jerry McAden.
She is survived by her children, Cheryl Hammer, Steve Hammer, and Debbie, and son-in-law, Andy Collins; grandchildren Paul (Heloa), Wes (Kristen), Paige, Liz (Tim), Isaac, and Nick; and great-grandchildren Ivan, Charlotte, Ilijana, Jackson, and Winston. She also leaves her siblings whom she loved dearly, Robert, Harold, Patsy, and Lou; brother-in-law, Ed; and sisters-in-laws Betty, Dorothy, Judy, Cheri, Fran, and Cathy; along with many nieces and nephews.
The service will be held privately.