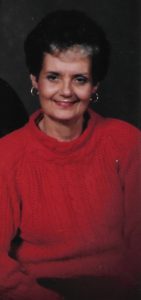 Betty Megard was born February 3rd, 1931 to Troy Lamar Campbell and Helen Carter Campbell in the city of Gastonia, North Carolina.  Betty was the oldest of five children: Peggy, Lamar, Patricia, and Helen. 
At some point after Betty was born, the Campbell family settled in Georgetown, South Carolina.  Betty grew up there and graduated Valedictorian of her class at Winyah High School. In addition, Betty competed in the local Georgetown beauty pageant and won the title of Miss Georgetown before heading off to college.
Betty moved to Gastonia, North Carolina to attend the Evans College of Commerce and, was awarded a certificate of completion in accounting.  Following graduation, Betty accepted a position in the accounting department at Akers Motor Lines in Gastonia.
While attending Evans College, Betty began dating a Clemson student named Charles Emory. Upon graduation, Charles accepted an Engineering position with the City of Gastonia Utilities Dept. and was commissioned an officer in the United States Naval Reserves. Betty and Charles were married in 1950.
Sometime later, Charles accepted a position with Southern Bell Telephone Co in Wilmington, North Carolina. While in Wilmington, the happy couple was blessed with their first two boys, Mark in 1957 and Eric, in 1959.
Shortly after Eric's birth, Charles was transferred to the Southern Bell regional office in downtown Charlotte, North Carolina. While in Charlotte, Betty and Charles' third son, Steve… was born in 1962.
In 1970, the Emory family moved to their lake property in Denver, North Carolina. Betty, eager to make new friends, became active with the women of the church at Unity Presbyterian Church.  And Charles, got involved civically serving two terms as President of the Lion's Club and in co-founding the East Lincoln Betterment Association (ELBA).  ELBA was established as an advocate organization for the purpose of bringing in a local doctor, drug store, library branch and other needed services into the Denver area.  Betty and Charles enjoyed many happy years living at the lake.
In 1981 after the couple's youngest son, Steve… had graduated high school and was married, Betty and Charles decided to part ways after (32) years of marriage.  Betty, whom began a career in accounting with Duke Energy's McGuire Nuclear Station back in 1972, remained in the lake home. At the time, son, Eric was living in the home and commuting while finishing up his Senior year of study a UNCC.
In 1984, while on an outing with the local Parents without Partners group, Betty met Gene Megard. They began dating and were married in 1985.
The new couple made their permanent home in the Westport community on the golf course.  Both Betty and Gene were avid golfers and enjoyed boating activities with the Lake Norman Power Squadron. Betty retired from Duke Energy in the early 1990s.  Afterward, became involved in the Westport Community Association, Garden Club, Book Club and became a volunteer for Hospice of Lincoln County and the East Lincoln Christian Ministries.
Gene and Betty made The Episcopal Church of St Peter By The Lake their permanent church home.  The couple enjoyed nineteen wonderful years of traveling, golfing, and lake activities together before Gene's passing in 2004.
Son Eric, having just returned to the Charlotte area for work from Birmingham, Alabama… moved into the home with Betty following Gene's death to assist with upkeep of the property.  Meanwhile, Betty, immersed herself in her favorite past-time: Bridge. She joined a large group that met weekly in Cornelius and hosted two tables per month in the home. Later, she co-founded the Denver Bridge Group which continues to meet each Thursday afternoon in Furr Hall at St Peter By The Lake.
As Betty's health began to decline around 2011, Eric became Betty's full time aide, and later on, her 24/7 in home caregiver. Eric was privileged to be by his mother's side when God called her home on Saturday, February 4th, 2023.  Betty had just celebrated her (92nd) birthday.. the day before.
Betty was preceded in death by husband, Gene Megard, sons, Mark Emory and Steve Emory, her parents, Troy and Helen Campbell, sister-Patricia Cribb, brother-Lamar Campbell, and sister-Peggy Lewis.
Betty's surviving family includes son, Eric Emory of the home, sister Helen Owens (Raymond) of Georgetown, SC, estranged grandson, Steven Charles Emory of Rock Hill, SC, a great grandson, Kyven Charles Emory of Florence, SC whom she never had the privilege of meeting, and numerous cousins, nephews, and nieces.
A service to celebrate the life of Betty Megard will be held at the Episcopal Church of St Peter By The Lake with the Reverend Dr. Ronald Taylor officiating on Thursday, February 16, 2023 at 2:00PM. Inurnment will immediately follow the service in the Memorial Garden at the church with the family receiving friends in Furr Hall afterward.
In lieu of flowers given in memory of Betty, the family suggests donations be made to Hospice of Lincoln County, East Lincoln Christian Ministries or the charity of one's choosing