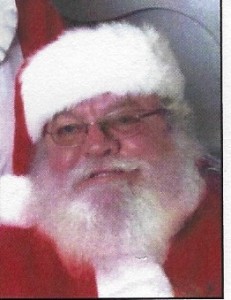 Lewis Roger Wilson Sr. a.k.a "Santa Claus"
Dec 18, 1951 – April 21, 2017
On early Friday morning, April 21, 2017, Mr. Wilson, 65, passed away at the downtown Novant Presbyterian Hospital. Mr. Wilson was born December 18, 1951, a son of the late Lewis Morgan Wilson and Peggy Jo Drum Wilson. He attended West Mecklenburg High School before joining the United States Marine Corp serving four years. He retired from Arc Welders after 25 years, and had various other jobs previously. He will be remembered for his very friendly, outgoing nature and his knack to help and/or rescue people from need or peril. He had a great love for his family, friends, and church. One of his passions was "becoming" Santa Claus. When he put on the Santa suit, he was transformed, and everyone- adults and children alike – knew that was a special Santa Claus. However, He was recognized as Santa even without his suit all during the year.
Mr. Wilson's family includes wife, Ann Hutchinson Wilson, son, Lewis Roger Wilson Jr. (Tammi) of Denver, N.C., and two grandchildren: Taylor Elizabeth Wilson (21) and Brendan James Wilson (17), as well as five sisters: Becky Wilson Carpenter (deceased), Sandra Lee Hunter of Concord, Margaret Wilson Miller of Charlotte, Roberta Wilson Fincher of Concord, and Marie Annette Rogers of Charlotte; he had one brother: Joseph Lansing Wilson of Belmont. Also, there are numerous nieces, nephews, and grand nieces and nephews.
A memorial service to celebrate Mr. Wilsons life will be held at 2:00 p.m, Sunday, May 7 in the sanctuary of Unity Presbyterian Church, 8210 Unity Church Rd., Denver, NC 28037, with Pastor Tricia Lytle officiating. The family will receive friends in the fellowship hall at the church following the service.
Funeral services provided by The Good Samaritan Funeral Home 3362 N Hwy 16 Denver, NC 28037
Like a Shepherd you now look upon the face of God.
Like a "Wise Man" you have only gone home a different way.
Today you will live in Christmas Forever.