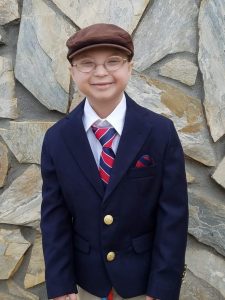 Landen Timothy Johnson of Lincolnton, NC, age nine, went home to be with the Lord on Friday evening, September 13th, 2019.
Landen was born January 24th, 2010 in Smithfield, NC. He loved to spend time with his family, watch movies, play Rescue Bots, dress up as a police officer, eat his favorite foods, and he loved the Andy Griffith Show. Most of all, Landen loved Jesus. He wanted to be a Pastor when he grew up. Landen was a light to all and will be dearly missed.
He is survived by his parents, Pastor Luke and Amanda Johnson, his brothers Brayden and Tyler Johnson, and sister Hannah Grace Johnson of Lincolnton, NC; Papa and Nani, Pastor Terry and Regina Johnson of Morehead City, NC; Papaw and Nana, Pastor Reuben and Terry Cason of Middlesex, NC; great-grandparents, Paul and Lilian Wall, Janice Cason, and Dorothy Stevens; the following uncles and aunts; TJ Johnson of Princeton, NC; Katie (Daryl) Rackley of Greensboro, NC; Josh (Cara) Johnson of Valdosta, GA; Caroline (Dustin) Stoey of Havelock, NC; Heather (Jonathan) Huff of Erwin, TN; Daniel (Camille) Cason of Hampton, VA; his cousins, Lucian Johnson, Aubrey Johnson, Gwen Johnson, Hadessah Rackley, Adalai Rackley, Rucker Rackley, Adara Rackley, Kaiden Huff, Mckinleigh Huff, Emmalyn Huff, Lacey-Grace Cason, Cohen Cason; special friend Lois Daughtry; and many great uncles, aunts, and cousins.
A celebration of Landen's Story will be held tonight, Monday, September 16th, at New Vision Ministries, 661 Clark Creek Rd. Lincolnton, NC. Receiving of friends will be from 4:30 PM- 6:30 PM followed by the worship service at 7:00 PM. The family will hold a private burial on Tuesday morning at 11:00 AM. On Tuesday morning, Landen's processional will be moving down main street and around court square at 10:30 AM. You are welcome to line the sidewalks/streets if you wish to pay respects to Landen.
The Johnson family would like to thank their Highland Drive Church family, team of physicians and nurses at Levine Children's, and community for all their love and support. Most of all, the family would like to thank the Lord Jesus Christ for His sufficient grace and sustaining strength.
In lieu of flowers, please make donations to the Potentials Foundation at www.potentialsfoundation.org  in Landen's honor.