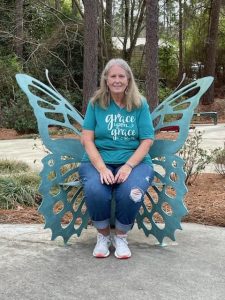 Karen Sedberry Dodd 67, of Alexis NC passed in complete peace at home on September 5th, surrounded by her family.
Widowed, Karen lived her last several years at home with her family and served them with her whole heart. She is survived by her sons, James Bosworth and Gabriel Bosworth and their Dad Mike Bosworth, her daughter-in-law Lana Bosworth and her sister Lisa Cloninger.  She is also survived by 6 grandchildren Dakota, Landen, Lathan, Ayla, Cross and Elliana.
She was an active member of Highland Drive Freewill Baptist church (Lincolnton, NC) where she faithfully served. She loved volunteering at the local soup kitchen and Hessed House. She had a passion to see the lost come to faith in Jesus Christ. She enjoyed spending time with family and friends.
She is preceded in death by her parents Cecil and Barbara Sedberry (Biscoe, NC) and her late husband Dewey Dodd
A Memorial Service will be held Thursday September 9, 2021 at 6:00 PM at Highland Drive Free Will Baptist Church in Lincolnton, NC.