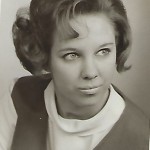 Karen Lee Carter of Denver NC, passed away Wednesday July 4th 2018
She was born on July 13, 1947 in Washington DC to the late Reginald and Lucille Wilkins. Karen was known by many for the time she spent working at Hardees and Butcher Boys in Denver, even after her retirement.
In addition to her parents, Karen was preceded in death by her husband, Wilford Carter.
Left to cherish her memory are daughter Janet Lee Wilkins of Denver; brothers Ronald Wilkins and wife Darlene of Newland NC, John Wilkins and wife Donna of Iron Station NC, sisters; Joan Wilkins of TN and Gail Phillips and husband Norm of Norwalk, OH. Grandchildren Steven Lewallen and friend Nick Varney of Denver NC, Samantha Smith and Husband Stephen of VA. And three great-grandchildren, two girls and a boy. Services for Karen will be held on Sunday, July 8th, 2018 at 2:00 pm at the Good Samaritan Funeral Chapel Denver, NC with burial to follow at Forest Lawn Cemetery, Lincolnton. The family will receive friends one hour prior to the service.
In lieu of flowers, the family has requested donations in Karen's name be made to the Humane Society of Lincolnton. Good Samaritan Funeral Home of Denver is serving the Carter family.