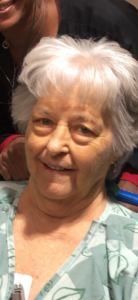 Joyce Helton Eller, 75, of Stanley, passed away August 9, 2020 at home.  She was born February 25, 1945 in Gaston County; a daughter of Miles Vess Helton and Myrtle Keever Helton.
Joyce was a secretary for many years at John E. Fox, in Charlotte, NC.  She was also a lifelong member of Faith Baptist Church in Iron Station. 
She loved knitting, reading, working puzzles and sitting outside on the porch with her husband "pops." 
Her greatest joy was being "nana" to her three grandchildren and spending time with them.
Left to cherish her memories is her husband, Dillard Eller; her son, Greg Eller and wife Jeannene of Newton, NC; her daughter, Debbie Hatfield of Iron Station, NC; and grandkids, Brooke Hatfield, Maddi Hatfield, and Lexi Hatfield, and their father Todd Hatfield of Iron Station, NC; sisters Catherine Ballard and husband Cecil of Stanley, NC; Lois Barker of Stanley, NC; and Christine Whitworth of Stanley, NC.
In addition to her parents, Joyce was preceded in death by her brothers, Charlie Helton and Kirby Helton.
A private graveside service will be held for the family at Faith Baptist Church in Iron Station, NC on Wednesday, August 12, 2020 at 1:00 p.m.
The Good Samaritan Funeral Home is serving the Eller family.