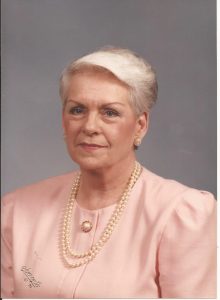 Jean Turner Heafner, 89, of Gastonia and Denver, NC. North Carolina was called to her heavenly home on October 5, 2019. She was born to the late Brooks and Kate Wix Turner. She was preceded by death by 2 brothers, David and Kenneth and 2 sisters, Mattie "Sue" and Joyce, one living sibling, Ruth. Jean was a graduate of Gastonia High School, class of 1948. She was married to Harold L. Long for 25 years and had three children, Duane, Philip and Allison. Due to a series of unfortunate health issues, Harold and Jean divorced in 1976.
She was a long time public servant, working at the Gastonia Tax Department in Gastonia, NC until she retired. She met her second husband, Dennis C. Heafner at Long Creek Baptist Church in Dallas, NC and later became members at Firestone Wesleyan Church in Gastonia, NC. After both had retired, Jean cared for Dennis through 3 strokes until his passing in 2004. She leaves behind 3 children, 6 grandchildren and 8 great-grandchildren.
Jean, very much loved her family and friends and was known for her infectious laughter and bright smile. Even as dementia took her mind and body, her love for Christ never wavered. In the care facilities that she lived: Magnolia Glen, Raleigh, NC, Wexford House, Denver, NC, and Peak Resources in Gastonia, NC she was known for her quick humor and sweet spirit.
Jean's Celebration of Life will be held on Saturday, November 9, 2019 at 2:00pm at Love Memorial Baptist Church, 311 E. Walnut Ave., Gastonia, NC 28054.
In lieu of flowers, donations in celebration of her life can be made to Hospice of Lincoln County, 900 Donita Ave., Lincolnton, NC 28092, who enriched her life more than we can ever say.
The Good Samaritan Funeral Home, Denver, served the family of Mrs. Heafner