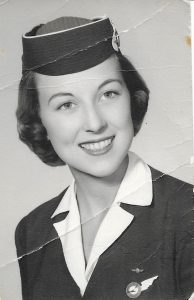 Eva Ruth Barker Seel, of Denver, NC. went to her heavenly home on October 26, 2019 at Heritage Place Adult Living Center in Statesville, North Carolina. Ruth was born on April 2, 1936 in New Madrid Missouri, she then moved to Hartford Michigan in 1946 where she was raised on a (20) acre farm.  Ruth graduated from Benton Harbor Community college in 1955. 
Ruth traveled to Chicago, IL, where she became a Flight Attendant for North Central Airlines.  She received her pilots license to fly smaller aircrafts.  Her marriage to Calvin Seel Jr., in 1965, then moving to New Smyrna Beach Florida in 1972, where she owned and operated ABC Travel Agency, bought her own tour bus and drove tours around the world. 
She retired in the 90's, enjoying her kids and family, traveling to the farm in Michigan where she spent most of her time in the garden and canning foods, operating her 13-foot Boston Whaler up and down the river of NSB fishing, shrimping, digging for oysters and clams.  Ruth had a booth at the local Flea Markets selling nick nacks, homemade breads and such… 
She is survived by her 2 children, Son-Timothy Burt Seel, (Stacey), Daughter-Tracy Jonell Seel, 1 Brother, Travis Barker, 1 Sister, Helen Roderick, 2 Grandchildren, Kelly & Katie Seel.
A Celebration of Life will be held on November 1, 2019, The Good Samaritan Funeral Home, 3362 NC HWY 16, Denver, North Carolina at 4 p.m.