Janell Lynn Stiles was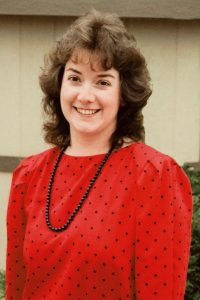 born in Muskogee, Oklahoma on June 16, 1962 to Violet and Clemett Mullins. Janell transitioned to heaven on December 2, 2021 in Charlotte, North Carolina. 
Janell graduated from Haskell High School in Haskell, Oklahoma and from Northeastern State University, Tahlequah, Oklahoma in 1984. She then worked as a legal secretary for a law firm in Tulsa, Oklahoma.
 Janell moved to California in 1986 to marry her husband, Gary, who was in the Navy. Janell worked at a large law firm in central California for several years until her daughter, Ashley, was born in 1992. In 1993, her husband had transitioned to the Air Force and they moved to Minot Air Force Base, North Dakota where Janell worked as an education program coordinator for service men and women on base. In 1998, Janell and family moved to Nashua, New Hampshire followed by another quick move in 1999 to Hanscom Air Force Base near Bedford, Massachusetts. While at Hanscom, Janell worked as an elementary school secretary and was actively involved in supporting Ashley's various school and soccer activities. In 2003, Janell and family moved to Manassas, Virginia where Janell continued working as an elementary school secretary and supporting Ashley with her various school activities. In 2017, Janell and Gary retired and moved to Denver, North Carolina where they enjoyed traveling and time together. 
Janell greatly enjoyed doing cross stitch and other crafts for decorating her home. Christmas was her favorite season and she collected holiday snowmen decorations and loved displaying them during the holidays. She loved to reminisce about adventures from the past as well as making new memories with family.
 Janell is preceded in death by her grandparents, parents and sister Jenean Mullins. She is survived by her husband, Gary Stiles, and daughter, Ashley Stiles, both of Denver, North Carolina and sister Jonita Mullins of Muskogee, Oklahoma.
 Services and interment are being held on Tuesday, December 14, 2021 at Salisbury National Cemetery in Salisbury, North Carolina.