Harold Russell Cadmus
April 23, 1933-July 22, 2021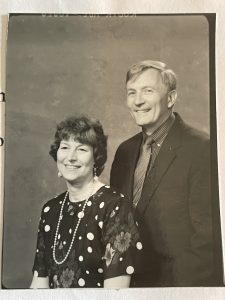 On the evening of July 22, 2021, Harold passed away unexpectedly at his home in Denver, N.C.  He was 88 years old.  
Harold was born in Bayonne, New Jersey on April 23, 1933.  He was the first of six children of Austin J. Cadmus and Margaret Gaddis Cadmus.  
Harold was a brother, father, uncle, and grandfather as well as a loving husband of 60 years to Nancy Evans Cadmus.  She once said: "You are indeed the best person I have ever known."
His career involved serving in the United States Air Forceas a Jet Fighter pilot with the 38 TAC RECON SQ (USAFE) from 1956 to 1964.  He also was in the USAF Reserves as a NC National Guard Aviation Flight Safety Officer, Fixed Wing Flight Instructor and Operations Officerfor 24 years (1964-1988).  He subsequently was hired with the FAA and became its Charlotte FSDO Supervisory Aviation Safety Inspector from 1988 until he retired in 1993.  Harold retired from the NC Air National Guard as Lt Colonel and served a total of 37 years.  He also served in the Korean War in 1958, and in France and Germany from 1961 to 1964.  He received over 15 medals and awards including the Meritorious Service Medal, Air Force Commendation Medal, Republic of Vietnam Campaign Medal, Humanitarian Service Medal, National Defense Service Medal, NCANG Meritorious Service Medal and Service Award.
Harold also taught at Albemarle Road Junior High School in Charlotte, N.C.
He obtained his Bachelor's Degree in Industrial Management from the Wharton School of Business at the University of Pennsylvania (1955) and he graduated with aMaster's degree in Education from UNC-Chapel Hill in 1967. He also went to Duke Divinity School for a brief time. Harold received his doctorate degree in Education from the University of Florida in 1974.
Harold's life-long love for animals never ceased.  He was always offering hot dogs and other special treats to the dogs of the neighborhood, and even made a heated doghouse for Sally, an Irish Setter.  He also enjoyed singing and playing the piano at the local Lakewood Care Center Nursing home. "I just do it for them." His sister Grace said she "could listen to him play the piano for hours and he was always asked to sing all the church choir male solos." Harold also enjoyed working out at the gym, gardening, growing tomatoes and helping with thedesign and planning of the new East Lincoln Library.  He also wrote 100 full-page commentaries, mostly on Lincoln County politics for the Colonial Spectator from 1998 until 2012. "My endorsements over the years were based on conservative principles and my impression as to the willingness of candidates to speak and act according to such principles."  Harold was also known as the "neighborhood king of squirrel entrapment and would report the numbers" he captured and subsequently release behind the YMCA.  The squirrels were forever chewing on his log house on Lake Norman much to his chagrin.  
He is preceded in death by his father Austin Jasper Cadmus, mother Margaret Gaddis, wife Nancy Evans Cadmus and brother A.J. Cadmus.  He is survived by his sisters Grace, Margaret, Ann and Pearl, daughter Lynn, son Scott, daughter-in-law Lisa, granddaughter Catherine, and grandson-in-law Tanner.
He asked for no flowers or memorials and will be buried in Whitmire, South Carolina beside his loving wife Nancy in the Whitmire Cemetery.