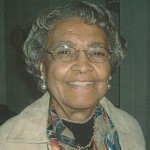 On October 19, 1921, Gwendolyn Bedford Brightful,93, began her earthly journey born to Elizabeth Jeffries Bedford and Richard Lewis Bedford in her Grandmother's home in Pelham, North Carolina.
Her journey ended on July 23, 2014 in Charlotte, NC, when the angels were ordered to escort her to her Heavenly home to join her husband Charles and daughter Dian. Her Earthly family includes her brother William Bedford and his wife Doris Bedford, sister Elizabeth Williams, daughters Marilyn Hill and Linda Lucas. Her son's in law Prentice Hill and Leland Lucas. Her four grandchildren Dara Grimaldi, Kobi Leakins, Corey Hill and Stephanie Hill and their spouses Anthony Grimaldi, Amber Hill, Dawn Hough, and seven great-grand children and a host of nieces, nephews, and friends.
Funeral Service to take place on July 27, 2014, at The Good Samaritan Funeral Home at 3pm.