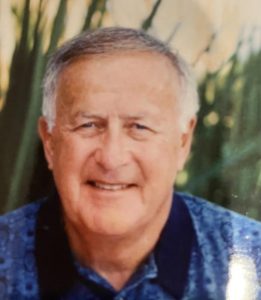 Dr. Martin Matthew White, 85, of Cornelius, NC died Thursday, January 13, 2022.  A Requiem Mass will be celebrated Friday, January 21st at St. Mark Catholic Church in Huntersville, NC, with Father John Putnam as Celebrant. The family will receive friends at St. Mark's Church from 2pm to 3pm, with the Mass beginning at 3pm. The burial will follow in Northlake Memorial Park in Huntersville.
Dr. White, beloved husband, father, grandfather, great-grandfather, son, brother and friend was born in Flint, Michigan on July 31, 1936, the son of William and Margaret (Purcell) White. He was a 1955 graduate of St. Michael's High School where he excelled in the classroom and on the basketball court. He earned his undergraduate degree at the University of Detroit and then a DDS degree from the Marquette School of Dentistry, class of 1968. Prior to starting dental school, Dr. White married Virginia Jaeger on August 31, 1963. Upon graduation, he opened his private practice in Burton, MI. They raised their family in nearby Grand Blanc, MI. After 10 years, Martin and Virginia moved the family to Charlotte, NC and opened a new practice, where he remained until retirement.
He is survived by his wife, a daughter, Dr. Kristen Welborne of Huntersville, and three sons, Dr. Steven M. White and wife Debi of Huntersville, Bradley D. White and wife Kerry of Huntersville, and Dr. Martin R. White and wife Shannon of Mooresville. He is also survived by 17 grandchildren, two great-grandchildren, sisters-in-law Kathy Jaeger and Kay White; brother-in-law John McKeon and several nieces and nephews. He is preceded in death by his father, mother, two sisters and a brother.
Dr. White most cherished his Catholic faith and lived his life devoted to Our Lord and Our Lady. He started his days with Holy Mass and had a strong daily devotion to the Rosary. He loved spending time with his family and cherished every moment together. He enjoyed working with his hands as a dentist, woodworker, and home improvement specialist.  He loved being outdoors doing yardwork, golfing, fishing, and hiking. He was a loving, devoted, hardworking family-man who tried his best every day and will be greatly missed. We love you, Dad. Sure you are saying, "I love you MORE!"
Our dad 's faith meant the world to him. The family would be grateful that in lieu of flowers, please make a donation in dad's memory to St. Mark Catholic Church (Huntersville, NC) Stain Glass Fund. In this way, dad will always be remembered in a place that was near and dear to him.