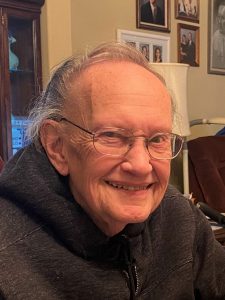 Dr. Gilbert Andrew Jarvis, a dear kind soul, has departed this earth on February 11, 2022.  He was two days short of his 81st birthday. He tried to convince us that the Super Bowl was being played in honor of his birthday. We will miss his humor.
Gilbert was born February 13, 1941 to Vernon O. Jarvis and Angeline M. (Burkard) Jarvis in Chelsea, Massachusetts.
Gilbert earned a B.A. from St. Norbert College (Wisconsin), M.A. and Ph. D. from Purdue University.  
He was a professor at The Ohio State University in the College of Education where he taught and chaired several academic departments.  He was Chairperson Professor Emeritus at OSU.
Gilbert is an author, coauthor, and editor of more than 60 books, as well as of more than 50 scholarly articles. He also made presentations to nearly 100 professional organizations during his career. He mentored 70 doctoral students to completion of their Ph.D. Degrees and was always very pleased by their collective career success.  He also provided service to many professional organizations and government agencies.

The study of other cultures was very important, which led him to travel to The People's Republic of China, Russia, Estonia, Finland, Kenya, Indonesia, Ecuador, France, Spain, Italy, Egypt, Poland, Czech Republic, Austria, French Canada, Morocco, The Republic of South Africa, Costa Rico, and Germany.
Gilbert was an avid Buckeye and lifelong Green Bay Packers fan.
He is preceded in death by his parents, Vernon and Angeline Jarvis, In-laws John and Eleanor Ganter. His son Mark Jarvis. Brothers-in-law George Kailhofer and Russell (Lisa) Ganter. 
Gilbert is survived by his wife Carol of 59 years.  Daughter Vicki (Christof Heisser),daughter-in-law Tricia Jarvis and grandchildren Luke, Ellie, and Chloe Jarvis ,sister Patricia Kailhofer, brother-in-law John (Carol) Ganter, and many nieces and nephews. 
The funeral will be private.