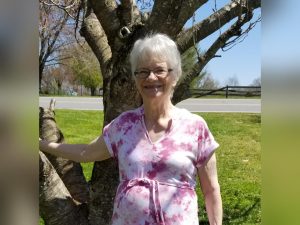 Please visit the Memorial Website for Mrs. Donna Juanita Smith by clicking the link : https://everloved.com/life-of/donna-s/
Nobody else held us so tight Or made us feel so right, No one's eyes shined so bright with love as my mom, who is high above.
The world lost a beloved wife, mother,  grandmother, & great grandmother,  Donna Jaunita Smith, on April 2, 2022.  Donna never stopped giving out the best hugs & never met a stranger whom she told about her family and dogs.   Donna was born in Boca Raton,  Florida on January 24, 1943.  Donna loved giving her time at the food ministry at her church along with teaching Sunday school to toddlers.  Donna loved reading books, music and playing the accordion when she was able. Donna's most enjoyed time was spending time with her great grandbabies, laughing and playing with them.
 Donna is survived by her husband Paul Smith, Son Daniel Smith,  Daughter Lauri McMichen & husband Pete, Grandson Kenneth Smith & wife Stefanie of Germany, Granddaughter Kelli Propst & husband Ryan, Great Grandchildren who she absolutely adored, Triston, Rylan, Taylor Belle, Kiahley Propst & coming in August Noah Smith. Donna is also survived by 8 siblings,  Aderra,  Jerry,  Delrae, Beverly, David, Daniel, Holly,   Heidi & multiple nieces and nephews.
Donna is proceeded in Death by her parents Jerome & Wynona Backus of MO 
A memorial service will be held on Saturday April 23, 2022 at 3:00PM at Denver Wesleyan Church 2381 North, NC-16 Business
Denver, NC 28037.
The family appreciates the many friends, family and Loved ones who have shared words of comfort during our time of loss. It has been such a blessing to share this time with you.
With Love and Thanks
The Smith Family