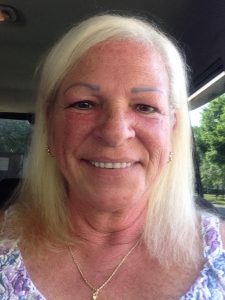 Mrs. Deborah "Debbie" Jean Baucom was born May 30, 1953 in Litchfield, Illinois.  Debbie was a long-haul truck driver for 12 years traveling through 48 states.  She pursued a career in the medical field working as a Medical Technician for 22 years at Presbyterian Hospital.  She also obtained her Associate's Degree to become an Electroencephalogram (EEG) Technician.  Debbie passed away on June 12, 2021, surrounded by her family.  
Debbie married Lewis Steven "Bo" Baucom on January 27, 1990.  They have been happily married for 31 years describing each other as their "earthly everything".  Debbie was known as Deb, Boogie, Mom, Meme and Meaw.  She had 4 children, 8 grandchildren, 1 great grandchild and one more on the way.  She loved each and every one of them whole-heartedly.  Debbie's favorite place was Matthews Church of God, where she was a proud member.  She enjoyed spending time with her family, sitting on the front porch soaking up the sun, listening to Christian music and eating Chinese food.  Debbie was an amputee but she certainly never let that slow her down.  She learned very quickly to maneuver herself wherever she needed to go…her independent spirit would allow nothing less.  She loved to laugh and her smile would light up any room.  Standing near her meant she was probably going to reach for your hand…no exceptions.  Hugs were a must!
Debbie was preceded in death by her parents, Alpha May Pierce Keene and Thomas Bright Keene and her sister, Sharon Brown.  She leaves behind: her husband, Bo Baucom; two sons, Ian Greer and Michael Baucom (Karen); two daughters, Azure Greer and Tracy Guyton (John); grandchildren, Zac, Alysha (Damein), Tristan (Victoria), Kaleb, Aydin, Hailey, Payton and Piper; great grandchildren, Wyatt and one on the way; siblings, Connie Redus, Michael Keene (Cindy), Patrick Keene (Kim), and Teresa Chelko (Kevin); and a host of other relatives and friends.
A Celebration of Life will be held on Friday, June 18, 2021 at 11:00 a.m. at Matthews Church of God, 517 E. John Street, Matthews, NC 28105. The family will begin receiving friends at 10:00am. In lieu of flowers, memorials may be made to Matthews Church of God or Trees for a Change (treesforachange.com).  
The Good Samaritan Funeral Home of Denver, NC is serving the Baucom Family