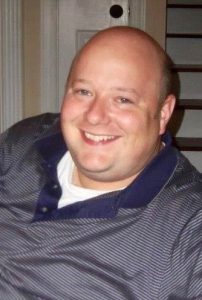 Christopher Henry Pearce ("CP"), age 44, of Denver, NC, passed away unexpectedly on February 24, 2020.
A Catholic funeral mass will be held at St. Mary Magdalene Catholic Church at 625 Magdala Place in Apex, NC on Wednesday, March 4th at 4pm.  This is a special church for Chris and his family as he was baptized in 2019 at this wonderful parish. 
He was born in Wooster, Ohio, on February 18, 1976 to Patricia Henderson Pearce and Dwain Henry Pearce.  Christopher attended Ashbrook High School in Gastonia, NC and made many lifelong friends there. He graduated from Appalachian State University in Boone, NC in December 1999 with a Bachelor of Science in Business Administration with a major in finance and risk management. He was in Pi Kappa Phi fraternity. He received a Master of Business Administration from Elon University in 2012.  He worked in banking services for 20 years with BB&T (Truist). 
Chris was the epitome of a family man and devoted father and husband.  He lived at home with his loving wife, Krista Prybylo Pearce, and four beautiful children, Riley, age 13, Jessica, age 10, Reagan, age 8, and Jonathan, age 5. He absolutely adored his family and no words can express their loss. He loved playing with the children with their toys, especially his traditional marble game, reading to them and assisting with schoolwork.  Chris was happiest with his family doing movie nights, going to historical places, cheering the kids on at their sporting activities, and running the snow cone machine at swim meets. He especially enjoyed the holidays with them, and made Christmas mornings special!
Christopher loved the mountains, reading, Civil War history, watching educational TV programs, spending quality time with family and friends. He was very kind, loving and generous to all. He always put other people before him and tried to help everyone in anyway he could. Christopher was an amazing father, husband, son, brother, uncle, and friend to many.
Chris is survived by his loving parents, Dwain and Patricia Pearce of Gastonia NC; wife, Krista Prybylo Pearce, daughters Riley, Jessica, and Reagan, and son, Jonathan Pearce of Denver, NC; sister, Amanda Henley and brother in law, Steven Henley, niece Grace Henley, and nephew, Luke Rhyne of Denver, NC; mother in law, Sharon Prybylo of Winston Salem NC; father in law Tom Prybylo (Evelyn) of Winston Salem, NC; sister in law and brother in law, Kasia and Paul Noblett, nieces, Sage and Sydney Noblett of Roanoke, VA; sister in law and brother in law, Keri and Jason Britt, niece, Kierann and nephew, Jacob Britt of Winston Salem, NC.
Chris was preceded in death by his beloved grandparents, Carl and Helen Starner Henderson or Wooster, Ohio and S. Beacher and Marjorie Pearce or Clearwater, Florida.
In lieu of flowers, donations may be made for his four children college funds at:
Online donations:
https://myaccount.virginia529.com/pls/prod/twpkwbis.P_wwwlogin?startpage=GIFT&key1=GM9NBEV
Gift ID : GM9NBEV
Check donations (Check payable to Virginia529 and include Gift ID GM9NBEV):
Invest529 Contributions
P.O. Box 759226
Baltimore, MD 21275-9226