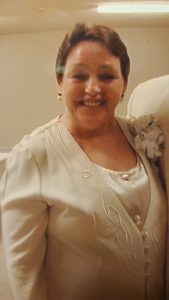 Calene Frances Cogdell also known as Beals, age 62, of Stanley NC, passed away Thursday August 1, 2019 in her home.
She was born March 24, 1957 in Moore County NC.
Calene was retired from home health which she loved and  was loved by all she come across. She enjoyed outdoors and spending time with her family.
She is survived by her daughter, Mary Cogdell and son, Wayne. Grandchildren Danielle and Madison Cogdell. Brothers Mark Beals, Gary Beals, Paul Beals and Sam Kaufman. Sisters Helen Link, Susan Woodley, and Barbara Beals.
A Celebration of Calene's life will take place at 4 p.m. on Saturday, August 17, 2019 at her residence 7613 Roxboro Ln. Stanley NC 28164.