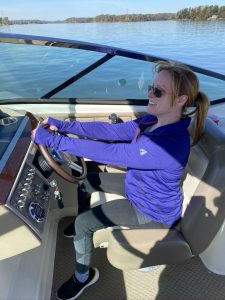 Brandi Leigh Garrett, passed away on February 26, 2021 at her home in Terrell, NC at the young age of 41 years old.
Brandi was born March 27, 1979, in Brunswick, ME to Donna Porter and David Garrett. At an early age she developed a love for animals, especially horses. Brandi started riding horses as a child and continued to ride until a devastating car accident in 1995 left her paralyzed from the waist down. While this event did pose a challenge, Brandi stepped up and took the challenge head on; not only did she survive, she thrived. Up for any adventure, Brandi traveled the world, developing a new love for snow skiing and enjoyed being out on the water on a jet ski. She had the biggest heart and would help anybody anyway she could.
Brandi loved to learn and was driven to succeed. Graduating from American Public University with a bachelor's degree in Human Resource Management, she followed that up with an MBA from American Public University and had recently started a doctorate program at Walden University. Her goal was to be Dr. B! Brandi had a long and successful career in human resources. Most recently she held the position ofDirector of Finance and Human Resources at Net Vision Consultants.
Brandi is preceded in death by her maternal grandmother Shirley Zeigler, maternal grandfather William Zeigler, paternal grandmother Elanor Butler and paternal grandfather Leroy Garrett. She is survived by the love of her life Jeff Flippo, mother Donna Porter, step farther William (Skeeter) Porter, father David Garrett, step mother Kathy Garrett, siblings Christopher Garrett, Ronda Bobier, andKyle Garrett, step siblings Tamera Porter Wilmot, Kara Debill, Jason Moore, god daughters Kayla Munoz and Bailea Garrett, and her fur babies Sparky and Bella.
A celebration of life will be announced at a later date.
In lieu of flowers the family requests a donation to either:
K9 Partners for Life at https://k94life.org/ or Challenged Athletes of West Virginia – 10 Snowshoe Dr. Snowshoe, WV 26209 or call 304-572-6708.