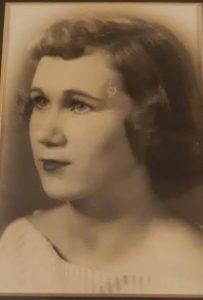 Bonnie Sue Burnette Sipe, 79 of Lincolnton, died unexpectedly on Thursday, May 28, 2020. She was born in Gorgas, Alabama on October 22, 1940 to the late O.C and Era Lee Burnette and was one of six children. For many years she was a legal secretary for several law firms as well as for the legal department at the former First Union Bank in Charlotte.
After retiring and relocating to Lincolnton, her main focus was on spending time with grand and great grandchildren, reading every book at the Lincolnton library at least twice, showing off her love of funky and eccentric hats at the many Senior Center Christmas craft sales where she was a vendor and never passing an antique shop wherever she happened to be without stopping. Her love for watermelon and cantaloupe was legendary, she believed nothing was wrong with ice cream for dinner and every grandchild who entered her house knew where the stash of candy was kept.
She leaves behind a family who will never eat cornbread and milk when they are sick but who will maintain the tradition of good southern cooking beginning with her daughter and son in law, Dena and James Sigman, Denver, her daughter and son in law, Kathy and Robert Kuczenski, Lincolnton, granddaughter and husband Jennifer and Derrick Baker, Granite Falls, granddaughter and husband Laura and Matthew Bloyer, Stanley, grandson Dakota Kuczenski, San Antonio TX., granddaughter Sydney Kuczenski, Lincolnton and three great grandchildren, Lawson Baker, who shared her love of all things Star Wars, Caroline Williams and Cora Baker, both of whom shared her love of all things glittery and sparkly. She leaves behind two sisters, Ann Porter, Jemison AL and Jimmie Ranke, Hickory. She leaves behind a diva dog, Junebug, who will never find anyone else to spoil her as much.
The family would like to extend our deep gratitude to Nick Baxter and Beth King, friends who became family to her, her pastor, Sarah Underwood, who was considered a third daughter and the members of Pisgah United Methodist Church whom she loved unconditionally.
A private family memorial will be held at a later date. The family asks that in lieu of flowers, donations be made to Pisgah UMC, 3191 Brady Hoffman Road, Lincolnton NC 28092