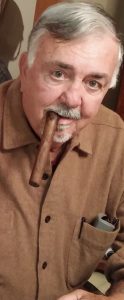 Anthony John Mario Fea, 82, of Iron Station, North Carolina, passed peacefully from this life for a better one in the presence of his family and the Lord on Sunday, September 6th, 2020. A Funeral Mass will be celebrated at 1:00 PM on Saturday, September 12th, 2020 at Holy Spirit Catholic Church 537 (Business) Highway 16 Denver, North Carolina. The Funeral Mass will be live streamed on the church's website at holyspiritnc.org for those who are unable to attend in person. 
Born on June 24th, 1938 in Orange, New Jersey to the late Sisto and Francesca Fea, Tony was the oldest of four boys; Andrew, Sisto (survived), and Thomas (survived).
Tony loved life. His many talents and passions led him to several professions including a restaurant entrepreneur, contractor, and gentleman farmer. Tony was an avid outdoorsman, a skilled craftsman and woodworker, and a charter member of the Holy Spirit Knights of Columbus. Above all, Tony was a loving Husband of 62 years, father of five, grandfather of 15 and great-grandfather of one.
Tony is survived by his wife Lucille Ronco Fea, sons Anthony Fea, Patrick Fea, Matthew Fea (Colleen), Sisto Fea (Tammy), and daughter Laura Suggs (Darrell). In lieu of flowers, memorial contributions can be made to Operation L.A.M.B .
The Good Samaritan Funeral Home in Denver is serving the Fea Family.