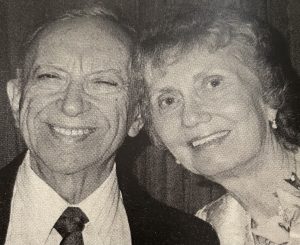 Anthony Edward Lanzilotti, Ph.D, of Iron Station, NC, passed away peacefully at the age of 100 on Thursday,July 22 2021.  
Antonio (Tony) Lanzilotti was born in Hoboken, NJ, on September 8, 1920. He was always proud to say he shared his birthday with the Blessed Virgin Mary, as Catholics celebrate September 8th as the birthday of the Mother of Christ. Anthony was a resident of Pearl River, NY (Rockland County) for over 60 years. The son of Sicillian immigrants, Anthony earned a BS in Biology from St. Peters College, NJ, an MS in Chemistry from Notre Dame University, IL and PhD in OrganicChemistry from Georgetown University, Washington, DC.
Anthony worked as a medical research chemist at Lederle Laboratories (Division of American Cyanamid Company) in Pearl River for 35 years, retiring in 1990 at age 70. During his fruitful and fulfilling career in research chemistry, Dr. Lanzilotti was a named inventor on five patents.
A faithful Catholic, Tony was an active member of Saint Margaret's Catholic Church in Pearl River, as well as a 4th degree Knight of Columbus for over 70 years.  Battling declining eyesight for most if his life,Anthony was instrumental in founding the Rockland County Association for the Visually Impaired. He is the last surviving founding member of "The Muddy Creek Four", a barbershop quartet historically well known in Pearl River for entertaining at both public and charity events.
Tony is survived by his loving wife of 68 years, Maureen (Haney) Lanzilotti, son Dr. Thomas Lanzilotti and wife Jean Marie of Sussex, NJ, son Michael Lanzilotti and wife Jean Patricia of Chagrin Falls, OH and daughter Karen Lappin and husband Paul of Iron Station, NC. Anthony is also survived by 18 grandchildren and 20great grandchildren. In 2014,
Anthony was preceded in death by his eldest daughter Janice, who became Mother Maureen of the Precious Blood, OCD (Discalced Carmelite Nun) of Erie, PA, of whom he was infinitely proud.
Funeral services will be offered on Monday, July 26, 2021, at Holy Spirit Catholic Church, Denver, NC, with visitation beginning at 10:30am, and Holy Mass celebrated at 11:30am. Funeral arrangements conducted by Good Samaritan Funeral Home, Denver, NC.