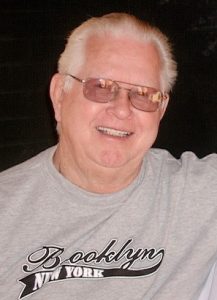 Alan Townley Straus was born on January 6, 1939 to Martin Straus and Ida Scholes Straus. He was born and raised in Brooklyn, New York, where he met Gerry, his spouse of 51 years. Al was very proud to have served in the Navy, having been stationed on the USS Forrestal.
After discharge, he worked as a systems program analyst in Los Angeles, California until his retirement in 1994. Al volunteered with Meals on Wheels and visited elderly in the nursing home. Al was a member of  Holy Spirit Catholic Church in Denver, NC.
Al was preceded in death by both parents and four of his siblings. He is survived by his wife, Gerry, and his son, Tim of Casselberry, Florida, as well as his sister Penny Uyhoven of Massapequa Park, NY, brother-in-law Vincent Grennon of Payson, AZ, sister-in'law and brother-in-law, Camille and John Palancia of Howell, NJ, and many nieces, nephews, grand nieces and grand nephews.
Al will be sadly missed by family, friends and his church family at Holy Spirit Catholic Church in Denver, NC